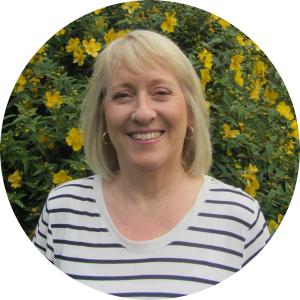 The counselling approach I use is a humanistic or person-centred one. This might sound rather puzzling, but to put it more simply, it means that in our sessions together I will concentrate and be there wholly for you; I won't judge you, or advise you what to do, I will listen intently, but at the same time I will ask questions, give observations, sometimes offer challenges, and if appropriate I will share theory and my own insight.
Before I trained to be a counsellor my life experiences included working as a solicitor in a variety of settings, raising 3 children with my Husband, and working in a voluntary capacity for a charity called the Cleft Lip and Palate Association. I currently work for an eating disorders charity based in Bristol.
I qualified as a counsellor in July 2014 and have been seeing clients since 2013, principally for a sexual health and HIV charity in Bristol, and more recently for OTR (Bristol), a mental health support and information service providing counselling and other services for young people aged 11 - 25.
My voluntary and paid work has had a focus on helping and counselling individuals living with long-term conditions, which include, HIV, eating disorders, living with chronic pain and/or disability.
Having worked for an eating disorders charity for a few years, I have a good understanding of how Anorexia, Bulimia, Binge Eating Disorder and OSFED (Other Specified Feeding or Eating Disorder) can develop, and why people get trapped in these sometimes hard to understand conditions. I recognise the links to psychological problems such as depression, anxiety, obsessive compulsive disorder, and self-harm. I understand how dangerous eating disorders can be, not just because of the impact they have psychologically, but also the physical consequences an eating disorder can have on the body.
My work in eating disorders, and previous voluntary work has made me particularly aware of the immense pressure and stress that can be felt by those people caring for loved ones living with such long term conditions. The work has given me insight, experience and a desire to continue helping, supporting and counselling people who are 'carers' in these circumstances.
More generally I have experience of working with clients with a range of issues including anxiety, depression, loss and grief, difficulties in relationships, sexuality, shame and low self-esteem.
My counselling experience so far means I am sensitive to the cultural and ethnic origins of individuals and to people's religious beliefs and sexual orientation.
Qualifications and Professional Bodies
Accredited Member of the British Association for Counselling & Psychotherapy (BACP)
Foundation Degree in Counselling (Distinction)
Admitted as a Solicitor
BA (Hons) Law